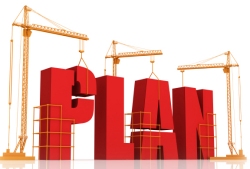 "Suppose one of you wants to build a tower, will he not first sit down and estimate the cost to see if he has enough money to complete it? For if he lays the foundation and is not able to finish it, everyone who sees it will ridicule him, saying this fellow began to build and was not able to finish" (Luke 14:28-30)
INTRODUCTION
This passage particularly talks about counting the cost of Christian commitment to Christ. Jesus Christ was teaching the disciples the cost of discipleship, so that someone has to count the cost in order not to turn back at the moments of challenges. Taking the same thought level, we want to examine the passage in the context of planning for the year. As one needs to sit back and count the cost of discipleship before becoming one, a person needs to assess the year and plan for it in order to avoid regrets and bitterness along the way.
PLANNING FOR THE YEAR


Although we are in the second month of the year, with only ten months left, but we can still do something very meaniful, if we start now. So, what is the process of planning?
Start Now
The beginning of the year or a project affords one the opportunity to set goals. Some call it resolution, but I prefer goal setting as it gives you a focus of what you want to achieve in a particular year. The underlining factor is to start now. Do not wait for tomorrow. Resolve that you must set goals for the year and begin now.
Make A Plan
It has been discovered that people who make plans and adhere to their goals are often more committed in life than those who do not have or keep on procrastinating in the area of their goal setting. What are the goals you want to accomplish this year? What are the projects you want to embark on this year? Your goal may be you want to improve on your academics. Or you desire to improve on your computer knowledge and application. You may desire to loss weight. You may need to start your project in that land you acquired some years ago. You may desire to read the whole bible in a year. There are numerous goals you can set for yourself in the areas of spirituality, finance, physical development, academic attainment, relationship etc. The important thing is to be convinced that you need to make a plan as to set the goals for yourself this year. However, be mindful that you do not bite more than you can shew.
Be Realistic
You need to take a very detailed study of yourself and the resources available to you, before you can make a realistic plan. Although it is good to be ambitious, but it is very ideal to be realistic. As stated earlier, one can only bite what he or she can shew.
Such detailed assessment of oneself will involve telling ourselves the home truth. It is not a question of limiting the power of God or the potentiality of any individual, but being careful to state the obvious facts. One cannot think of embanking a building project on that acquired land, if he does not have a viable business to support it. So the first goal will be how to build that business to a position of strength in order to provide the required funds for the project.
Aim Higher
Although you are required to be realistic, but have a forward outlook to whatever goals you have in mind. Many people fail because they have limited themselves. It is possible to be higher and at the same time be realistic about it. The world is full of opportunities, waiting to be taped by visionary, enthusiastic and committed persons. Take a critical look at those opportunities and desires of your heart, and aim higher at accomplishing them. Do not belittle yourself. Do not undermine yourself. Do not look down on yourself. Look at yourself as a champion and stick to that
Analyse Critically
After resolving to aim higher, than settle down to critically analyse your goals to discover the best ways of attaining them. Moreover, this stage will enable "the men to be separated from the boys". The unrealistic goals will be jettisoned, while the realistic ones will be carried forward. This is the moment of separation, and moving on with what is possible. It is a critical analyses state.
Action
Having done the above, the time of action is now. No procrastination. No delay. Act now with the proposal. There is no hard in trial. Put your efforts to work. And with prayers to God for His Divine support, you will see success and breakthrough knocking at your door.
Conclusion
Building the tower of your life begins today, follow systematically the pathways enumerated above and surely you will see the tower of success built.